I see you, Glitter Sister.
You've built your empire, you've amassed a following, and you're making your money as a badass boss impacting tens of thousands of people every day!
Yes, you've done big things, but now your soul is telling you… it's time to do sacred ones.
It's time to access your full Creation Power™ and fulfill the measure of your creation on this planet.
And I get it, leaning into this next level of your impact can be scary. Intimidating. You tell yourself it's burnout, but really it's fear.
"What if I can't go bigger?"
"What if I can't access this sacred creation you're talking about?"
"What if I am rejected in this big thing that matters most to me?"
"What if I lose everything I've created because I shifted my focus to something different?"
"What if I'm not really the one to do this?"
All of it just mental gremlin lies — because you know you are being called to something greater, something more. You feel it. And your soul map holds the key.
When you know who you are, you unlock the power of what can be.
Soul Mapping is an intuitive process I use to help you understand and harness the full strength of your Creation Power™ via an in-depth exploration of:
– Soul Blend: your core essences (who + why)
– Sacred Creation: your deeper, gifted calling (why + what)
– Energy Flow: your access to power (what + how)
When you know who you are at the soul DNA level and how to help strengthen your innate gifts and powers, you unlock the magic that will roll across the planet and change the landscape of our world.
It's like a genetic mapping of your soul using next-level aura + chakra understanding and gifts. Your Ancestry.com or 23andMe genetic fingerprint can tell you a lot of things, but the one big thing that's missing is this. I'll help you discover the path of your soul, not just your DNA.
How does Soul Mapping work?
To you, it will feel like a free-flowing conversation. Some questions will seem natural and expected, others may come across as strange and meaningless. I promise, it all has a purpose.
As a powerful empath, seer, and oracle, I am feeling for indicators underneath your answers as I determine where you are blocked, where you are hiding, and where you need the most help to harness your Creation Power™.
Unique Soul Blend
There are over 210 combinations of Auric essences that make up who a person is and how their creations manifest in the world. During our time together, I'll identify the three essences that present the strongest in your aura and where they are located in your layers:
– Soul Skin: This is your core essence and it doesn't change. Ever. You were born with it and you will die with it. It flavors everything you do and how you show up in the world. It is an intrinsic part of unlocking your Creation Power™.
– Habit Field: This soul essence is impacted by the patterns of behavior you use to interact with others. Its power is in knowing how to adjust it or work with it to get the results you desire.
– Life Lens: This soul essence is what people see and feel when they brush up against you, whether online or off. While this one can also change, our goal is to keep it as consistent as possible. This reads as trustworthy and authentic to the people you serve. Want people to respond to you differently? Then we have to look at what's happening in your Life Lens.
Sacred Creation
This is one of my favorite parts. As I talk to you, I am gifted to know the sacred creation that's sitting inside you. I can feel it—the size of your flame, the intensity, how far it's spreading, and more. I can feel the inevitability of what the Earth will be like as you continue to make choices in alignment with your sacred creation. I can feel what lights you up and what shuts you down. I know when you're hiding from your greatness and getting lost in a project that doesn't actually matter, and I can help you re-align to your true Creation Power™.
Energy Flow
We'll be checking in with your chakras to determine
– What sources of energy are you plugged into?
– How open are your entry points?
– What is the health of each chakra reflected in your Soul Blend?
– Are your chakra partnerships healthy?
– What is happening with your Heart Chakra, the center point of the entire system?
– And more…
Whatever you are missing that is blocking you from your next steps, we'll identify it and determine the tool specific to you and your Soul Blend that will help you get moving.
Sessions include a recording that you can refer back to again and again, as well as an in-depth report of your Soul Blend, Sacred Creation, and Energy Flow, complete with the tools specific to you that will help you strengthen your core essences, better align to the creation that lights you up inside, and improve your energy flow to make everything possible.
I'd love to help you get intimate with your soul if you are a…
You already value and invest in energy work because you understand that knowing and harnessing the unseen is just as impactful and important as hiring the right business coach and marketing strategist. You use oracle and tarot cards on the regular and consistently seek out the best in spiritual advisors. I don't have to tell you how life changing understanding your Soul DNA can be because that same soul is already shouting, "HELL YES! This is our next step!"
My unique approach to exploring your Creation Power™ is the answer your intuitive spirit has been asking for.
You might not consider yourself a "woo" person, but you are open to all of the things that can transform your action-taking into even better results. You've invested in your business or career, but you're looking for something that will support you, not just the empire you're building. You're ready for the soul level insight, right? You understand these words that I'm using and don't think that I'm a total crazy person. Instead, you're intrigued… willing to try anything that feels in alignment with your soul.
Because, if you believe that soul actually exists, why wouldn't you want to understand the map that guides it?
My unique approach to exploring your Creation Power™ is the accessible, practical bridge between your business empire and your soul's world.
You've spent most of your life feeling like you're living in someone else's skin. You've played by others' rules, tried to meet their expectations, and have created a life that is mostly "nice," but doesn't actually fill you. And you're not even sure you know why. You love your people and they love you (as much as they are able), but you often feel like the outsider—"other" rather than "otherworldly" (which is your real truth). You fill your soul stirring and your sacred creation reaching for the stars as it whispers, "This is where we belong." And while you don't have all the answers—and maybe even some of the questions—you are willing to take the journey that will lead you back to your Truth.
My unique approach to exploring your Creation Power™ is the mirror to help you remember your soul.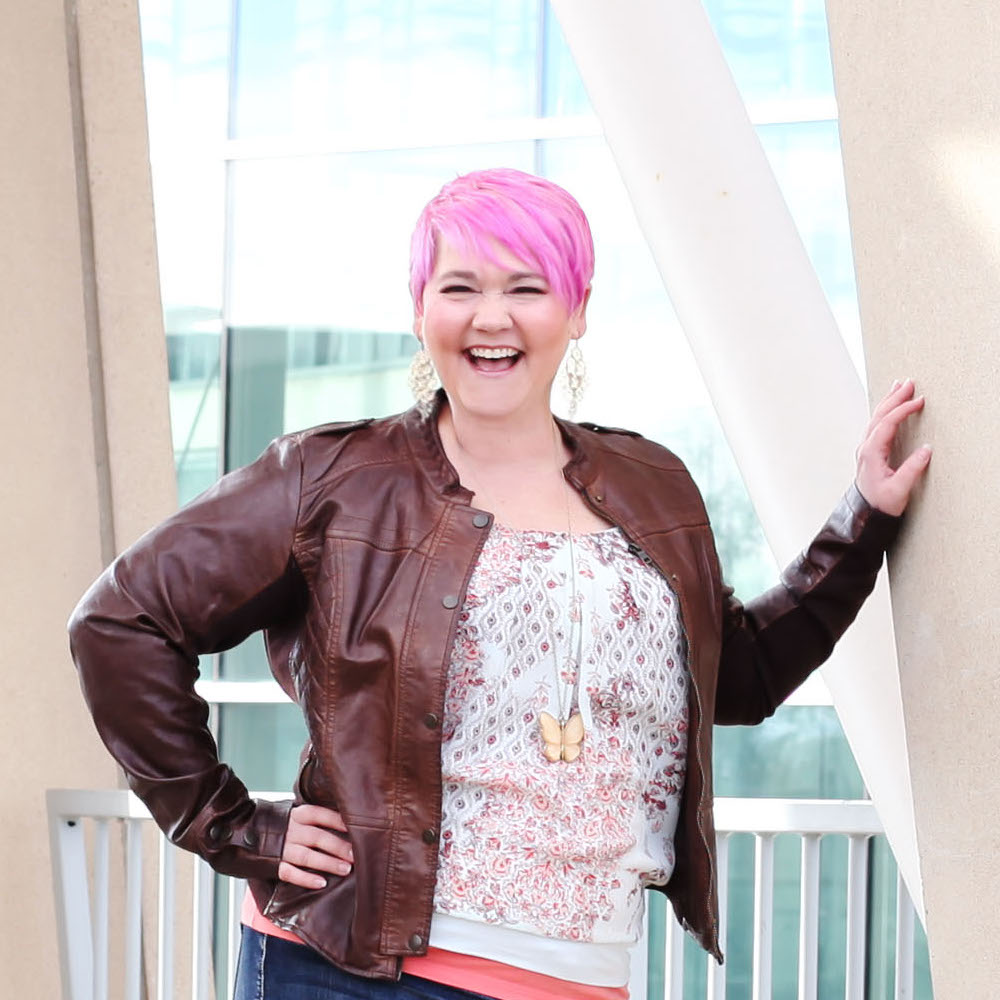 Kickass Soul Mapper, Master Intuitive, and Molotov cocktail in Hello Kitty packaging. I help Sacred Rebels navigate their inner magic to transform their outer world.
Because I know the Creation Power™ living inside you. I can feel it. I feel the size of your flame and it's intensity. I feel its depth and breadth, and when we talk about your next level calling, I feel the impact you will have on this planet as though it is happening right now. I see what's going on inside you and I know, not just the possibilities, but the inevitabilities of your Creation Power™ when you are aligned with your personal Soul Map.
It's why I get so passionate about the work I do.
I feel that future—that bright, powerful future that will happen when you say yes to you—and I feel its loss when you fumble or turn away because of doubt, fear or confusion.
I know what it's like to be soul driven and performance driven because I've actually founded and operated two successful companies—one specifically around energy systems (including Chakras and Auras) and one around helping fiction writers get their art out into the world. As a business owner like you, I understand the unique frustrations, challenges, and delights in entrepreneurship and in the journey of seeing and owning the next level of our impact and Creation Power™.
Despite all the doubts, fears, setbacks, and resistance we experience, here is what I know:
You are the one. The right one. The beautifully imperfect one who's been called to change the world.
I believe in you.
Loves & hugs,

$997
INCLUDES:
2-hour Session
Though we have 2 hours together, this is really about helping you. I am more committed to mapping your soul than I am to the clock, so we are working towards the breakthrough, not the countdown. Come open and willing to receive. <3
Session Recording
Refer back to your session again and again for new insights.
Soul Map Report
This is a 20+ page PDF that documents your current Soul Blend, Sacred Creation, and Energy Flow including in-depth descriptions of each core essence, specific stage of creation, chakra diagnostics, and tools to help you create the next level impact you desire.
* Once you purchase your Soul Mapping Session, you will be sent a link to my calendar so you can book a time and date that works best for you.
I know because you're here. Don't let another year go by hiding from the power you know is inside you.
If you are willing to explore your inner magic and harness your unique Creation Power™ as you lean into your next level impact — living both a performance and soul-driven life — then let's go.
Let's map your soul.